Jurassic World: Dominion Dominates Fandom Wikis - The Loop
Play Sound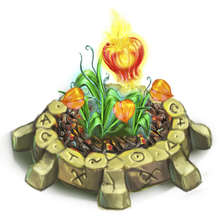 These are Fireflowers. Fireflowers are needed to disperge the fog of the whole village. There are 4 colors of fireflowers, the yellow one, red one, blue one and the purple one. You will need a Fireflower bed to plant these flowers. A fireflowers bed is available at level 6 in the shop at section Farm. 
The Yellow fireflower takes 8 hours to grow
The Red fireflower takes 12 hours to grow
The Blue fireflower takes 18 hours to grow and
The Purple fireflower takes 21 hours to grow.
Fireflowers needed
[
]
| # | Area | | | | | |
| --- | --- | --- | --- | --- | --- | --- |
| | Needs | | | 2x | 2x | |
| 1 | Elder's Home | | | | | |
| 2 | Meadow | | | | | |
| 3 | Abandoned Dragon's liar | | | | | |
| 4 | Village Forge | | 1 | | | |
| 5 | House of the residents | | 2 | | | |
| 6 | Sacred River | | 3 | | | |
| 7 | The Ruler's Pyramide | | 2 | 1 | | |
| 8 | Mushroom Forest | | 3 | 1 | | |
| 9 | Pier | | 1 | 4 | | |
| 10 | Sky over the Island of fog | | 1 | 5 | | |
| 11 | The Island of the Oracle | | 2 | 5 | | |
| 12 | The bed of the Royal Papyrus | | 3 | 5 | | |
| 13 | Bridge to the Oracle of fog | | | 8 | | |
| 14 | Pirate ship | | | 9 | | |
| 15 | Stone warrior | | 1 | 9 | | |
| 16 | Dragon Skeleton | | 3 | 7 | 1 | |
| 17 | Big warehouse | | | 9 | 2 | |
| 18 | Fish creek | | 5 | 4 | 3 | |
| 19 | Statue of the Sphinx | | 4 | 4 | 4 | |